For many developers, the journey into a developer relations role can happen organically, without any formal transition. This shift from coding to community building, which some refer to as the "De Facto DevRel", can initially seem daunting. However, embracing this change provides an invaluable opportunity to expand your skills and amplify your impact.
They say that challenges make us stronger and spark our creativity. Well, a challenge has been recently thrown 🥊 at me by the brilliant mind of my friend and engineer's editor, Ivan Brezak Brkan .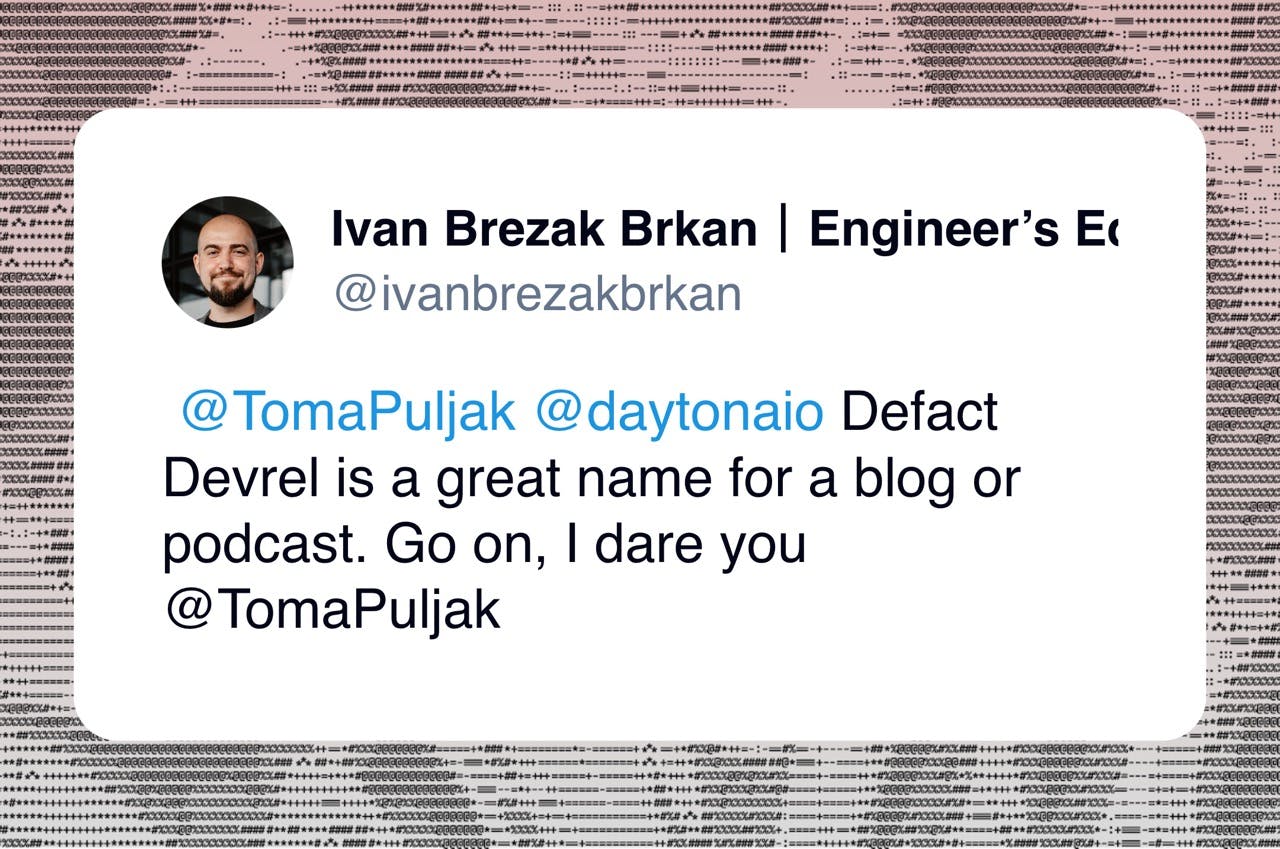 At Daytona, we are big on standardisation and definitions. So, let us first define this together so that we all understand what we're talking about.
De facto DevRel encompasses developers who naturally take on responsibilities that align with traditional developer relations roles, even if it was not their initial intention.
How Coders Become Community Builders
In my experience, the De Facto DevRel role emerges subtly over time. As developers gain deep knowledge of a product or technology, they naturally begin sharing insights with others. This sparks meaningful connections within the community. Before they know it, developers find themselves acting as advocates, educators, and mentors.
While this transition is often unexpected, it is driven by a genuine desire to help fellow developers. By representing the developer perspective, sharing hard-earned wisdom, and fostering collaboration, these community builders provide immense value. Their journey into DevRel may be unplanned, but it is fueled by authenticity.
Expanding Your Skills Beyond Coding
Stepping into a DevRel role, whether officially or organically, allows developers to cultivate new abilities that extend beyond coding. Here are some of the key skills this role promotes.
Communication: From writing documentation to running demos, clear communication is essential. Honing this skill helps build relationships and share knowledge.

Leadership: Leading and inspiring your community requires vision, empathy, and decisiveness. These leadership skills help guide developers and advocate for their needs.

Strategic Thinking: Understanding your audience and identifying their pain points involves sharp analytical thinking. These strategic skills help developers support their community.

Project Management: From organizing events to managing communities, project management abilities are invaluable in a DevRel role.
By embracing the De Facto DevRel role, coders can expand their skillset far beyond their core technical abilities. This creates a multifaceted professional with both breadth and depth.
While preparing for a talk, I not only acquire knowledge on the topic but also enhance my communication skills by thinking about how to effectively convey information to the audience.
The Multifold Benefits of Embracing Change
Transitioning into a De Facto DevRel role opens the door to new possibilities that can enrich your career and impact while also adding significant value to the company.
Strengthening Bonds: By fostering collaboration and open communication, DevRels build a sense of community among developers. These connections can spark creativity and innovation.

Amplifying Insights: With their deep product knowledge, De Facto DevRels become powerful advocates who can explain benefits and value to others.

Developer Empathy: Bringing the developer perspective into business decisions leads to more user-centric policies and products.
At its heart, this role is about creating human connections and helping fellow developers succeed while bringing new value to the company.
What I love about giving talks is the opportunity to present a topic in my own way and engage with the audience, and it also allows me to network and meet new people.
Tips for a Smooth Transitioning into a DevRel Role
If you find yourself sliding into a De Facto DevRel role, here are some tips to help you make the most of this transition:
View it as an evolution, not a disruption. Don't resist the change. See it as an opportunity to expand your capabilities and make a bigger impact. Growth often begins outside one's comfort zone.

Improve communication abilities. DevRel roles require clear and effective communication. Work on honing writing and presentation skills to build connections.

Immerse yourself in the community. Understand fellow developers' needs and challenges. Connecting authentically requires insight into your audience.

Develop leadership instincts. Guide and inspire your community by being decisive yet empathetic. Sharpen skills like strategic thinking and project management.

Stay on the cutting edge. Keep learning about the latest technologies, tools and best practices. This helps you provide timely and relevant advice to developers.
The De Facto DevRel role allows developers to evolve beyond coding into community building. By embracing this change as an opportunity for growth, you can amplify your impact and creativity.
I believe every developer should have an open mindset and strive to become a de facto DevRel, as it fosters better communication, exposes different perspectives, and helps build a sense of community.
Creating Authentic Connections
For me, the key advantage of the organic DevRel role is authenticity. Without formal incentives or obligations, De Facto DevRels are driven purely by a desire to help fellow developers. This leads to genuine connections and unbiased insights that resonate within the developer community.
While professionalized DevRel plays an important role in reaching wider audiences, organic community building taps into the heart of what developer relations means - people helping people. By embracing this change wholeheartedly, developers can transform into community advocates who foster authentic human connections.
The De Facto DevRel role awakens our intrinsic motivation to share knowledge and uplift each other. As developers, what could be more rewarding than that?