Daytona, a Secure Alternative to GitHub Codespaces, Launched by Cloud Development Veterans
Nikola Balić
01 Sept 2023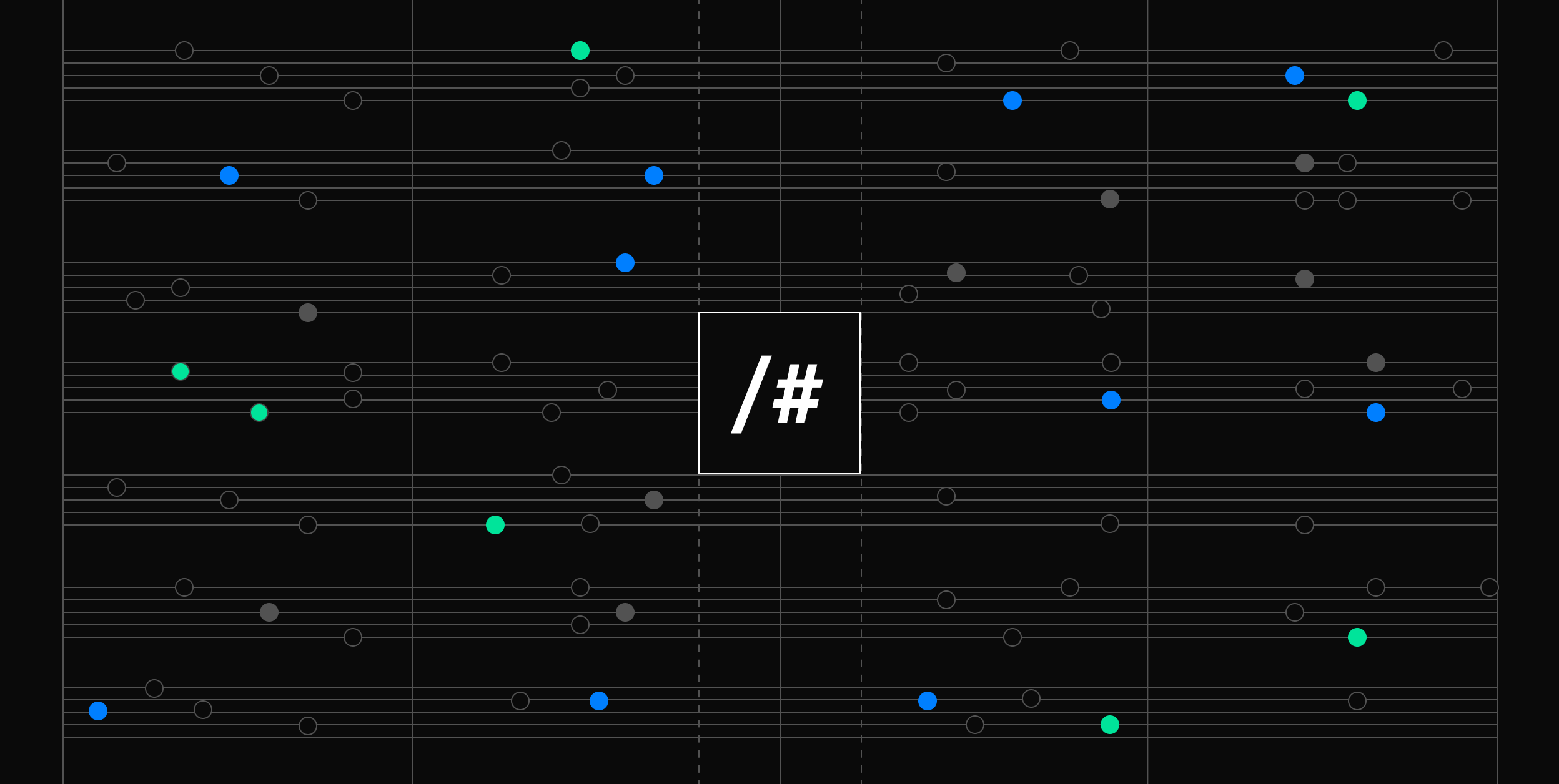 Daytona saves enterprises money on coding environment management by provisioning secure and standardized development environments.
New York, Sept 1, 2023 – With the launch of Daytona (https://www.daytona.io/), enterprises now have a secure, flexible alternative to GitHub Codespaces for managing development environments. Daytona, crafted by the same team behind Codeanywhere – pioneers of Cloud IDEs, offers solutions that allow developers to start coding instantly with their preferred tools and frameworks. Whether self-hosted or professionally managed, Daytona is specifically designed to meet the unique needs of large organizations and regulated enterprises.
The Challenge with Existing Cloud Development Environment Solutions
While current cloud development environment platforms enhance the developer experience, they often don't fully meet enterprise needs in terms of security, flexibility, and self-management. Companies such as Uber, Shopify, LinkedIn, and Eventbrite, which have strict security and productivity needs, previously were left without appropriate options. They were forced to develop custom, tailored solutions in-house.
Creating a custom in-house platform costs upwards of $1 million in initial development for a team of senior development tools engineers. Additionally, it requires continuous maintenance by a team of 3-11 engineers, as evidenced by companies like Slack and Uber. With Daytona, enterprises can save over $500.000 per year in maintenance and engineering costs.
Daytona fills the gap left by existing solutions by giving enterprises control over their development environments, whether on-premises or in the cloud. By utilizing Daytona, organizations can avoid the need for significant upfront investment and ongoing maintenance costs.
Dev Environments Designed with Enterprise Needs in Mind
Daytona was designed from the ground up with enterprise needs in mind, ensuring that businesses are not restricted to specific tools or providers. It integrates with existing systems and is compatible with a wide range of platforms and source-management tools. It provides fine-grained access controls, advanced security features, and the ability to operate in hybrid and multi-cloud environments.
Daytona has already garnered enthusiasm from key experts, who recognize how it solves critical pain points.
"I'm super excited about Daytona. They're solving a key problem for any at-scale organization like Snyk: how do I make it easy for my developers to get up and running, context switch, and spend more time in the flow instead of chasing environment mismatches," said Ian Livingstone, Director of Engineering at Snyk.
This endorsement underscores how Daytona enables enterprises to optimize their development workflow.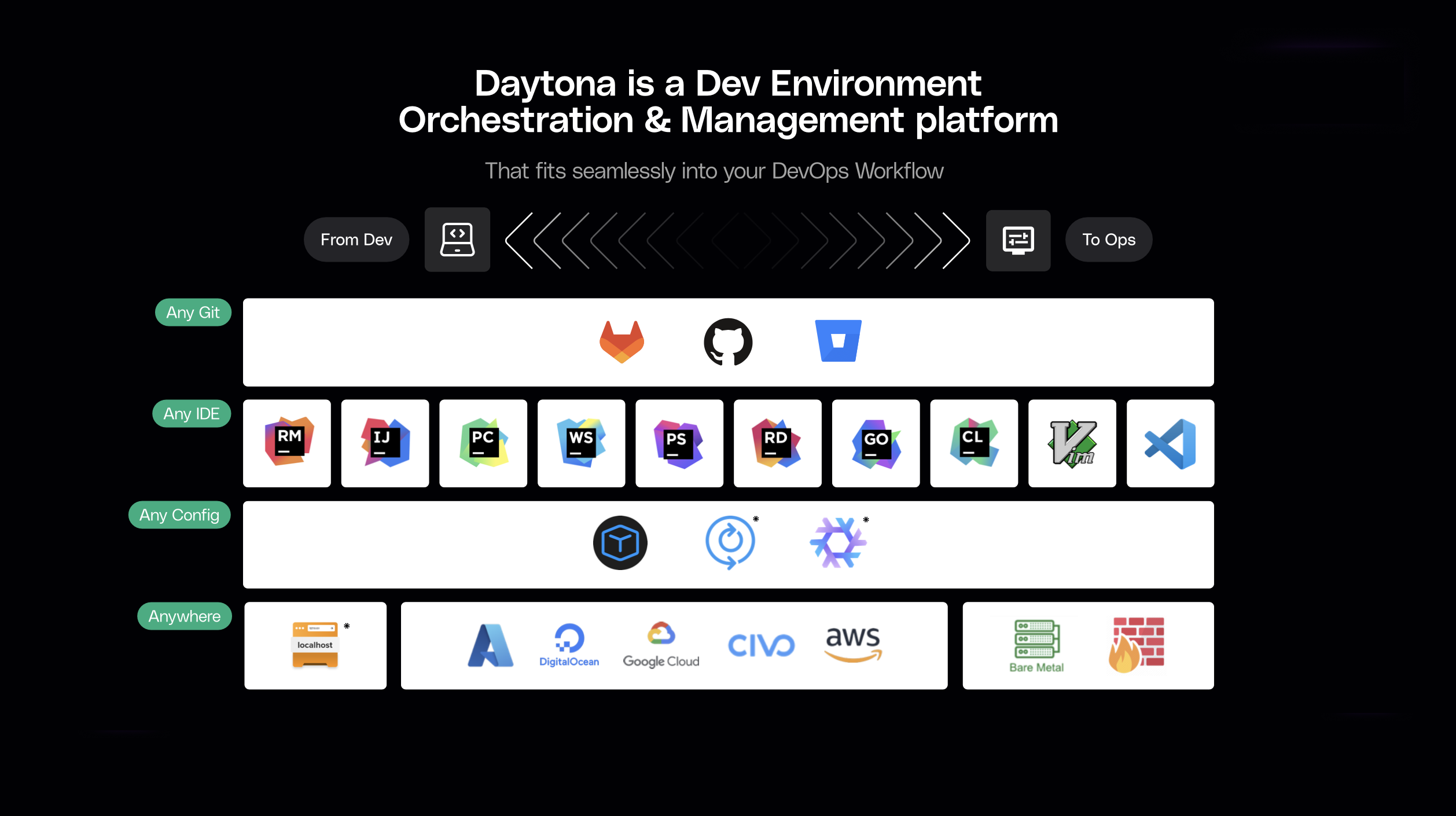 Traction Among Elite Enterprises
Before its official launch, Daytona had already captured the attention and business of customers spanning industries like aerospace, banking, and telecommunications. Notably, a number of these customers hail from the esteemed Fortune 500 list, underscoring the critical need for development environments that offer both standardization and a reliable developer experience.
"Daytona allows enterprises to maximize productivity and accelerate innovation, while maintaining the security and control crucial for their success," said Ivan Burazin, CEO of Daytona. "We're excited to deliver standardized development environments solution that empowers enterprises to optimize their development lifecycle."
The launch of Daytona fills a crucial gap in the market for enterprise-ready alternatives to tools like Codespaces. With its veteran leadership and innovative SDEs, Daytona allows organizations to accelerate development velocity securely.
To learn more about Daytona and its unique value for enterprises, visit www.daytona.io. For more information, press inquiries, or to schedule an interview, please contact press@daytona.io.
---
All About Daytona
Daytona is a pioneering developer platform that delivers secure and scalable development environments to enhance a company's developer velocity. Adaptable to run anywhere, it meets developers where they are, eliminating unnecessary learning curves.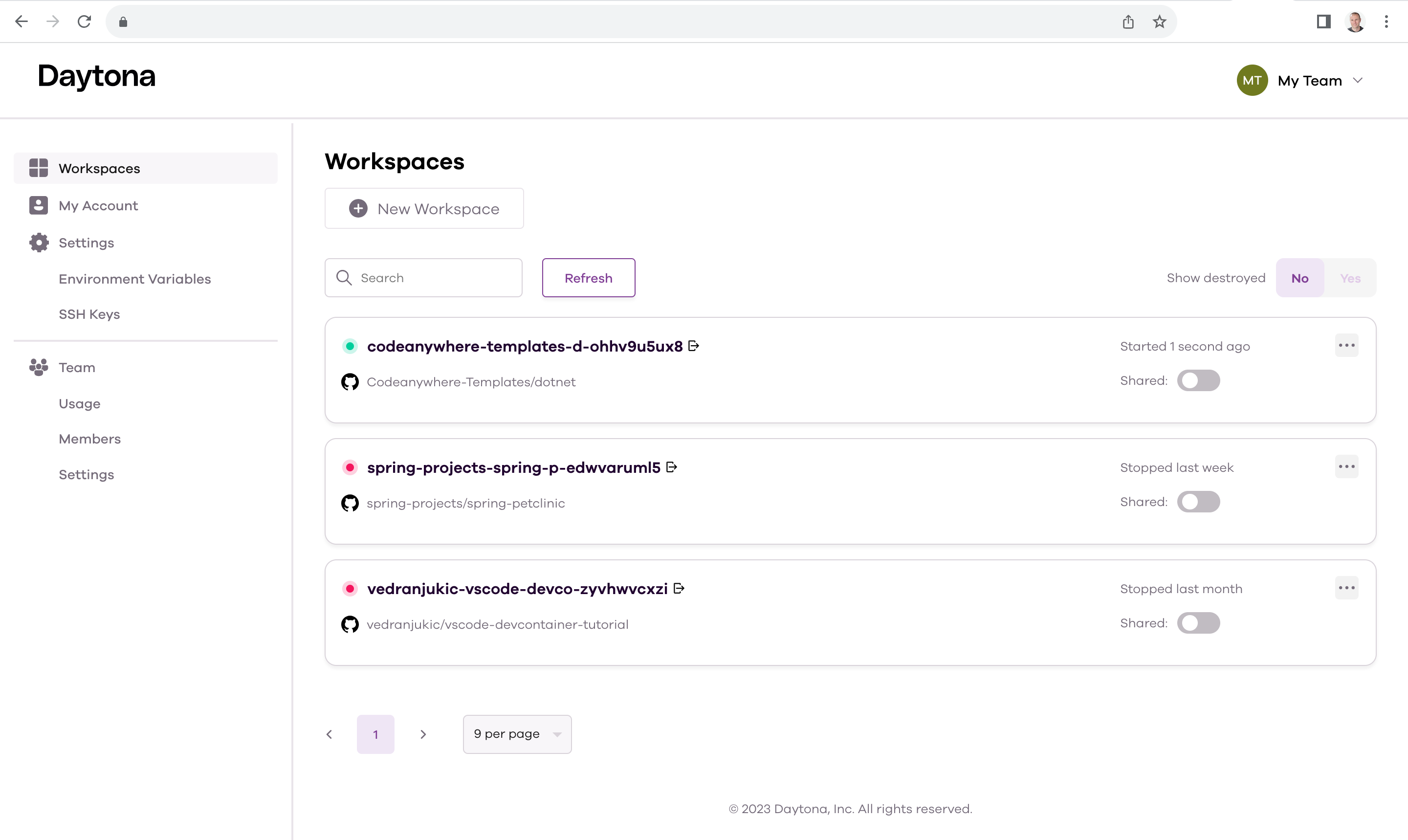 Revolutionary Standardized Development Environments
Daytona's core innovation is its standardized development environments (SDEs) that unify the developer experience.
SDEs automate the provisioning and management of consistent, secure environments. Developers get disposable, pre-configured workspaces to start coding instantly. Daytona SDEs embed best practices while allowing flexibility to personalize their setups.
It's crucial to understand the difference between Cloud Development Environments (CDEs) and Standardized Development Environments (SDEs). While CDEs provide a cloud-based platform for software development, offering flexibility and accessibility, SDEs take this a step further. SDEs not only provide a cloud-based development platform but also ensure uniformity across the development lifecycle. This standardization eliminates disparities in the development process, facilitating seamless collaboration, increasing efficiency, and reducing the chances of errors or inconsistencies. While CDEs revolutionize where and how development happens, SDEs further optimize this process by standardizing the development environments across the board.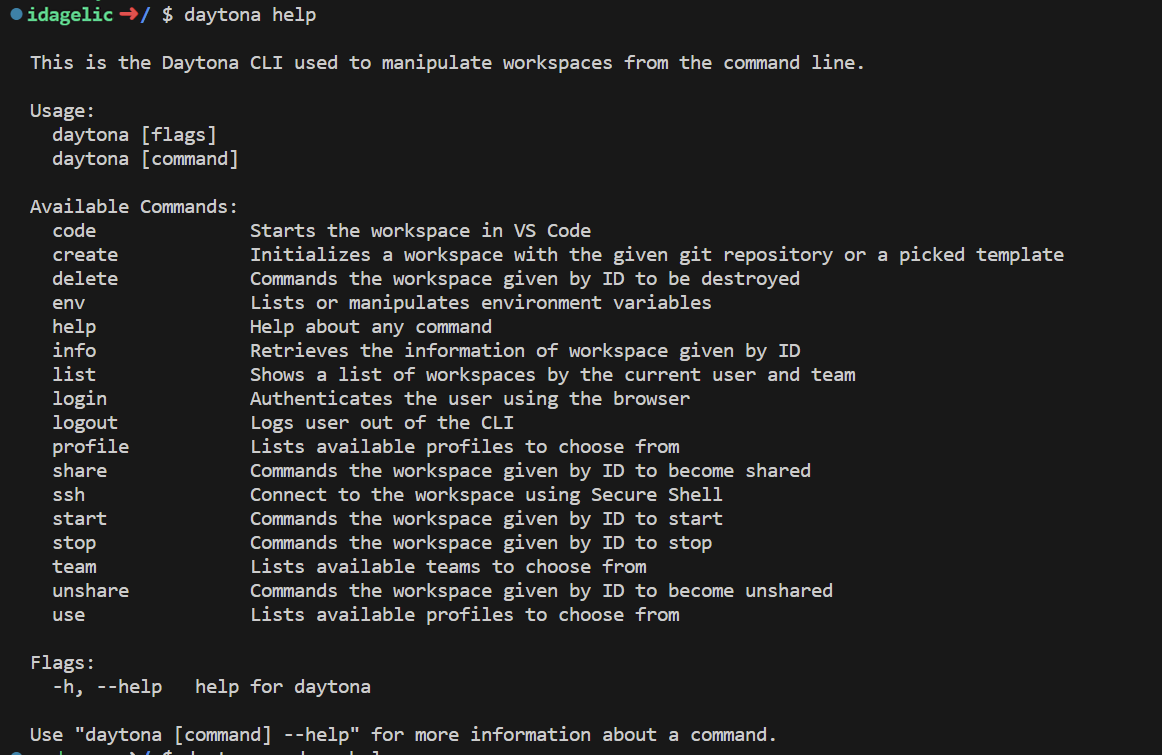 Founders With Decades of Experience
The founders of Daytona are the original team behind Codeanywhere (https://codeanywhere.com/), which pioneered cloud development in 2014 and have more than 30 years of combined experience building developer tools and cloud solutions.
Ivan Burazin is the CEO and co-founder. Previously, he served at Infobip as Chief Developer Experience Officer, founded one of the most prominent developer conferences Shift, and co-founded Codeanywhere, one of the pioneers in cloud development environments. Ivan is passionate about empowering developers and enhancing developer experience.
Vedran Jukic is the CTO and co-founder. He has decades of experience in software architecture, automation, and streamlining developer workflows. His mantra is "simplify and streamline the development process."
Goran Draganic is the Chief Architect and co-founder. With deep expertise in DevOps and Kubernetes, Goran designed Daytona's architecture leveraging cutting-edge orchestration.
Their complementary skills and shared vision make them the dream team to reimagine cloud development.
TLDR: Daytona is a new standardized development environment platform designed for large organizations and enterprises, offering a secure alternative to GitHub Codespaces with fine-grained access controls and compatibility with various platforms and source-management tools.
Spend less time configuring and more time creating.